Visa requirements
Visa-exempt foreign nationals : European Union citizens (except Estonia, France, Portugal, Slovakia and Spain*), Albania, Andorra, Antigua and Barbuda, Australia, Bangladesh, Barbados, Belarus, Belize, Benin, Bhutan, Bolivia, Bosnia and Herzegovina, Botswana, Brunei, Burkina Faso, Cambodia, Canada, Cape Verde, Cote d'Ivoire, Cuba, Dominica, Ecuador, Fiji, Ghana, Grenada, Guinea, Guinea-Bissau, Guyana, Honduras, Iceland, Kiribati, Kosovo, Liberia, Laos, Lesotho, Liechtenstein, Macao, Macedonia, Malawi, Malaysia, Maldives, Mali, Malta, Mauritania, Micronesia, Monaco, Montenegro, Morocco, Nauru, Nepal, New Zealand, Niger, Nigeria, North Korea, Norway, Palau, Papua New Guinea, Russia, (56 days), Samoa, Saint Kitts and Nevis, Saint Lucia, Saint Vincent and the Grenadines, San Marino, Senegal, Serbia, Sierra Leone, Singapore, Solomon Islands, Suriname, Swaziland, Switzerland, Republic of China, Togo, Tonga, Trinidad and Tobago, Turkmenistan, Tuvalu, United Arab Emirates, Vanuatu, Vatican City, Venezuela, Zambia.
* only for Spanish travelers on a direct flight to The Gambia.
Nationalities only subject to entry clearance : Bahamas, Dominican Republic, Haiti, Indonesia, Jamaica, Kenya, Mauritius, Namibia, Philippines, Seychelles, South Korea, Sri Lanka, Tanzania, Timor-Leste, Turkey, Uganda, Zimbabwe.
Nationalities who can obtain a visa on arrival : France, Portugal, Spain*, United States.
* Spanish travelers on a direct flight to The Gambia are visa exempted.
Nationalities subject to visa : citizens of all other nationalities must obtain a visa in embassies before arriving in The Gambia.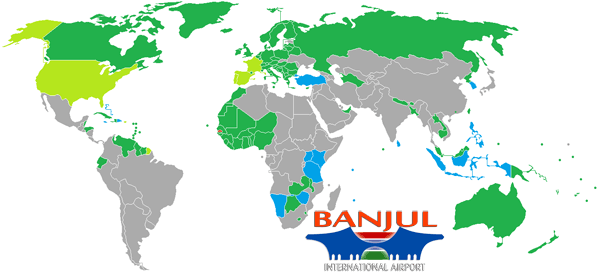 Warning: a passenger with no Gambian identity papers (passport or identity card) is a foreign passenger and as such must have a visa.