Banjul Yundum International Airport
Banjul Yundum International Airport is the only paved airport of the Republic of The Gambia. Its international code (IATA Code) is BJL. This is the one you see on your luggage labels when you take a flight to The Gambia.
It was renamed International Airport Banjul Yundum, Yundum being the name of the place in which the airport has been established. The terminal, built by the Senegalese architect Pierre Goudiaby Atepa, has been ranked among the 10 most beautiful airports in the world by the British journalist from The Observer, Rowen Moore. Situated on an area of 3600 hectares, the airport area is established approximately 24km from Banjul.

Due to the tourist attraction of The Gambia, Banjul airport is very dynamic in relation to the small size of the country. Its runway of 3600 meters allows the landing of long-haul flights from around the world.
| | |
| --- | --- |
| | Its furnishings allow travelers to spend a pleasant moment upon arrival in Gambia and while waiting for their flight. Many shops and services allow passengers and their companions to begin their stay in the best conditions. |
| | |
| --- | --- |
| | In order to facilitate your trip, we advise passengers to take all necessary measures to be in compliance with sanitary requirements, customs and administrative (passport, visa, etc..). |
Stay informed of delays and cancellations keeping this page in your favorites.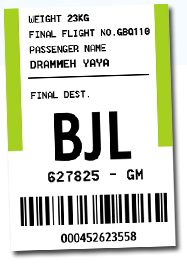 Log in

Contact us

About

2013-2019 BanjulAirport.com.