Fatal crashes in the Gambia and airlines blacklist
This information page lists the most recent fatal airline accidents in the subregion. Accidents with no fatalities are not listed. You will also find below the list updated on December 23rd, 2013 of regional airlines banned in the European Union.
Date(d/m/y)
Location and carrier
Fatal (+ ground)
List updated on Decembert, 23rd 2013
30/01/2012
Namoya, Congo (TRACEP Congo Aviation)
3
02/06/2012
Accra, Ghana (Allied Air)
8
03/06/2012
Lagos, Nigeria (Dana Air)
153 + 14
21/03/2011
Pointe-Noire, Congo (Trans Air Cargo)
9 + 14
08/07/2011
Kisangani, RDC (Hewa Bora Airways)
85
21/10/2010
Bugulumisa, RDC (Tracep)
2
25/08/2010
Bandundu, RDC (Filair)
20
19/06/2010
Yangadou, Cameroun (Aero Service)
11
26/08/2009
Nganga Lingolo, Congo (Aero Fret Business)
7
26/05/2009
Near Isiro, RDC (Service Air)
4
29/04/2009
Massamba, RDC (Bako Air)
7
01/09/2008
Bukavu, RDC(Air Serv Internatiional/CemAir)
17
15/04/2008
Goma, RDC (Hewa Bora Airways)
0 + 47
15/03/2008
Nbagu, Nigeria (Trade Wings Aviation Ltd.)
3
04/10/2007
Kinshasa, RDC (Africa One Congo)
21 + 30
24/09/2007
Malemba Nkulu, RDC (Karibu Airways)
1
07/09/2007
Goma, RDC (Galaxy Kavatsi Airlines)
8
26/08/2007
Kongolo, RDC (Great Lakes Business Company)
14
21/06/2007
Kamina, RDC (Karibu Airways)
1
03/06/2007
Freetown, Sierra Leone (Paramount Airlines)
21
17/05/2007
Walikale, RDC (Safe Air Company)
3
05/05/2007
Dizangue, Cameroun (Kenya Airways)
114
All airlines certified by the authorities of the Republic of Gabon are banned except:
Air Services SA
Air Tourist – Allegiance (NIL)
National et Regiomale Transport — Nationale
SCD Aviation
Sky Gabon (SKG)
Solenta Aviation

Afrijet (sauf les Falcon 50 et 900).
Gabon Airlines (sauf le Boeing B767-200, immatriculé TR-LHP).
Nouvelle Air Affaires Gabon — SN2AG (NVS) (sauf le Challenger CL601 et le HS-125-800).
All airlines certified by the authorities of Liberia are banned and especially:
Air Liberia
Bridge Airlines
Liberia Airways

LoneStar Airways
Satgur Air Transport
All airlines certified by the authorities of Sao Tome are banned.
All airlines certified by the authorities of Sierra Leone are banned and especially:
Air Rum, Ltd (RUM)
Bellview Airlines (S/L) Limited (BVU)
Destiny Air Services, Ltd (DTY)
Heavylift Cargo

Paramount Airlines, Ltd (PRR)
Star Air (SIM)
Seven Four Eight Air Services Ltd (SVT)
Teebah Airways
All airlines certified by the authorities of Equatorial Guinea are banned and especially:
Air Bas (RBS)
Air Consul SA (RCS)
Air Guinea Cargo (GNC)
Air Maken (AKE)
Air Services Guinea Ecuatorial (SVG)
Aviage (VGG)
Avirex Guinee Equatoriale (AXG)
Cargo Plus Aviation (CGP)
CESS (CSS)
CET Aviation (CVN)
COAGE – Compagnie Aeree de Guinee Equatorial (COG)
Compania Aerea Lineas Ecuatoguine de Aviacion, SA (LEASA) (LAS)
Ducor World Airlines (DWA)
Ecuato Guineana de Aviacion (ECV)
Ecuatorial Express Airlines (EEB)
Ecuatorial Cargo (EQC)
Equatair (EQR)
Equatorial Airlines, SA (EQT)
Euroguineana de Aviacion (EUG)

Federal Air Ge Airlines (FGE)
Guinee Ecuatorial Airlines (GEASA) (GEA)
GETRA – Guinea Ecuatorial de Transportes Aereos (GET)
Jetline Inc. (JLE)
KNG Transavia Cargo (VCG)
Litoral Airlines Compania (COLAIR) (CLO)
Lotus International Air (LUS)
Nagesa Compania Aerea (NGS)
Presidencia de la Republica de Guinea Ecuatorial (ONM)
Prompt Air GE SA (POM)
Skimaster Guinea Ecuatorial (KIM)
Skymaster (SYM)
Southern Gateway (SGE)
Space Cargo Inc. (SGO)
Trans Africa Airways (TFR)
Unifly (UFL)
UTAGE – Union de Transport Aereo de Guinea Ecuatorial (UTG)
Victoria Air (VIT)
All airlines certified by the authorities of Benin are banned and especially:
All airlines certified by the authorities of Congo (Brazzaville) are banned.
All airlines certified by the authorities of Congo (Kinshasa) are banned and especially:
Africa One (CFR)
African Company Airlines (FPY)
Aigle Aviation
Air Beni
Air Boyoma
Air Infini
Air Kasaï
Air Navette
Air Tropiques
Bel Glob Airlines
Blue Airlines (BUL)
Bravo Air Congo
Business Aviation
Butembo Airlines
Cargo Bull Aviation
Central Air Express (CAX)
Cetraca Aviation Service (CER)
CHC Stelavia
Comair (CAW)
Compagnie africaine d'aviation
CO-ZA Airways
Doren Aircargo
Enterprise World Airways (EWS)
Filair
Free Airlines
Galaxie Corporation
Global Airways (BSP)

Goma Express
Gomair
Great Lake Business Company
Hewa Bora Airways
I.T.A.B. – International Trans Air Business
Katanga Airways
Kivu Air
LAC – Lignes aériennes congolaises (LCG)
Malu Aviation
Malift Air (MLC)
Mango Mat
Rwabika 'Bushi Express'
Safari Logistics
Services Air
Sun Air Services
Tembo Air Services
Thom's Airways
Christian's Airways
TMK Air Commuter
TRACEP
Trans Air Cargo Services
Transports Aériens Congolais, TRACO
Uhuru Airlines
Virunga Air Charter
Wimbi Dira Airways (WDA)
Zaabu International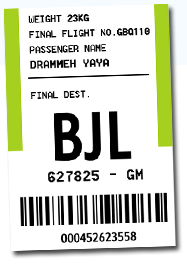 Log in

Contact us

About

2013-2017 BanjulAirport.com.