Airlines and destinations
Airlines serving Banjul International Airport :
Several daily flights connect Banjul with other capitals of the sub-region and intercontinental flights allow passenger traffic between Europe, Middle East and other continents, directly or with a connection.
Amoung airlines flying from/to Banjul airport
Destinations served from our airport :
WEATHER IN BANJUL

82°F

28°C

Partly cloudy
Humidity : 79%


Wind : SSW at 19km/h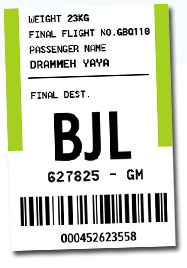 Log in

Contact us

About

2013-2017 BanjulAirport.com. All rights reserved.